For damp proofing solutions in Reigate
Damp Proofing Services in Reigate
Here at The Damp and Timber Company, we have been helping our Reigate customers with their damp proofing for years. Whether they have suffered from rot, damp, or woodworm infestation, we have been there when they needed us the most. We have our own team of highly-trained and experienced damp proofing professionals with decades of expertise under their collective belts. From property surveys and woodworm treatment to damp proofing and basement waterproofing, we can do it all.
Damp Proofing and Timber Treatment in Reigate
As a well-established damp proofing company in the Reigate area, we have much to offer our customers in the town. Here are some of our more popular services…
Damp Proofing in Reigate
There are two main methods we employ when it comes to damp proofing your property. These are a Damp Proof Course (DPC) and Damp Proof Membrane (DPM). Depending on the nature of your damp problem, each as its own advantages. Our professional damp proofing specialists will be able to determine which is best for you.
Rising Damp in Reigate
Rising damp is a common problem, most often caused by water being drawn up through porous building materials. The Damp and Timber Company can easily spot this kind of damp, often by the familiar 'tide mark' it leaves. Our experienced and trained damp specialists will quickly identify the source of the problem and take steps to remedy it.
Wet Rot and Dry Rot in Reigate
Wet rot and dry rot are both forms of fungal infestation caused by damp conditions or water ingress. While they have a different appearance and impact on your property, the treatment is substantially the same. We locate and repair the cause of damp and then repair or replace any timbers that have been damaged.
Property Surveys in Reigate
When you are buying a property, it is important to get a reliable property survey conducted by a company you trust. At The Damp and Timber Company, we have been performing property surveys across Reigate for years. We produce detailed reports listing the extent of any damage, together with our recommendations for repair.
Basement Waterproofing in Reigate
Basements are a natural place to find damp and water ingress, especially if they are below the water table. Waterproofing your basement can take some time, but is well worth the effort. Once complete, it provides additional space to your property, not to mention value. We provide a range of possible solutions to deal with this for you.
Woodworm Treatment in Reigate
There are several types of insect that fall under the general banner of woodworm and they can all cause damage. Our treatment technique varies from species to species, but generally involves a water-based spray to eradicate the larvae. This followed up by our team of woodworm treatment experts repairing or replacing the infested timbers.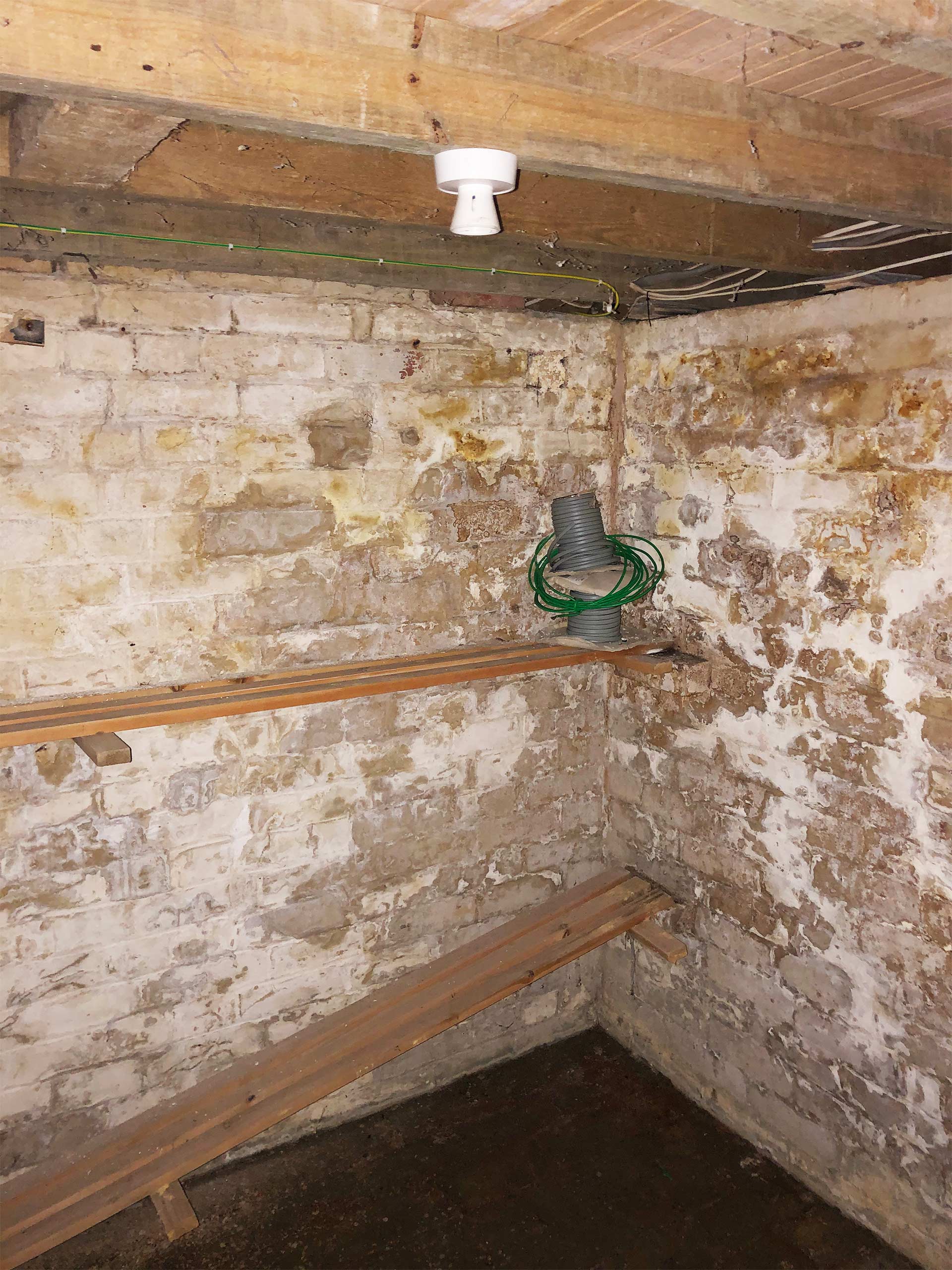 Your local damp proofing company
The Damp and Timber Company is based in the well-known Surrey town of Redhill. This places us only a couple of miles away from our valued customers in Reigate. Our team of damp and rot experts know both the route and the area well. This is your guarantee of a punctual arrival on every job.