For basement waterproofing solutions across Surrey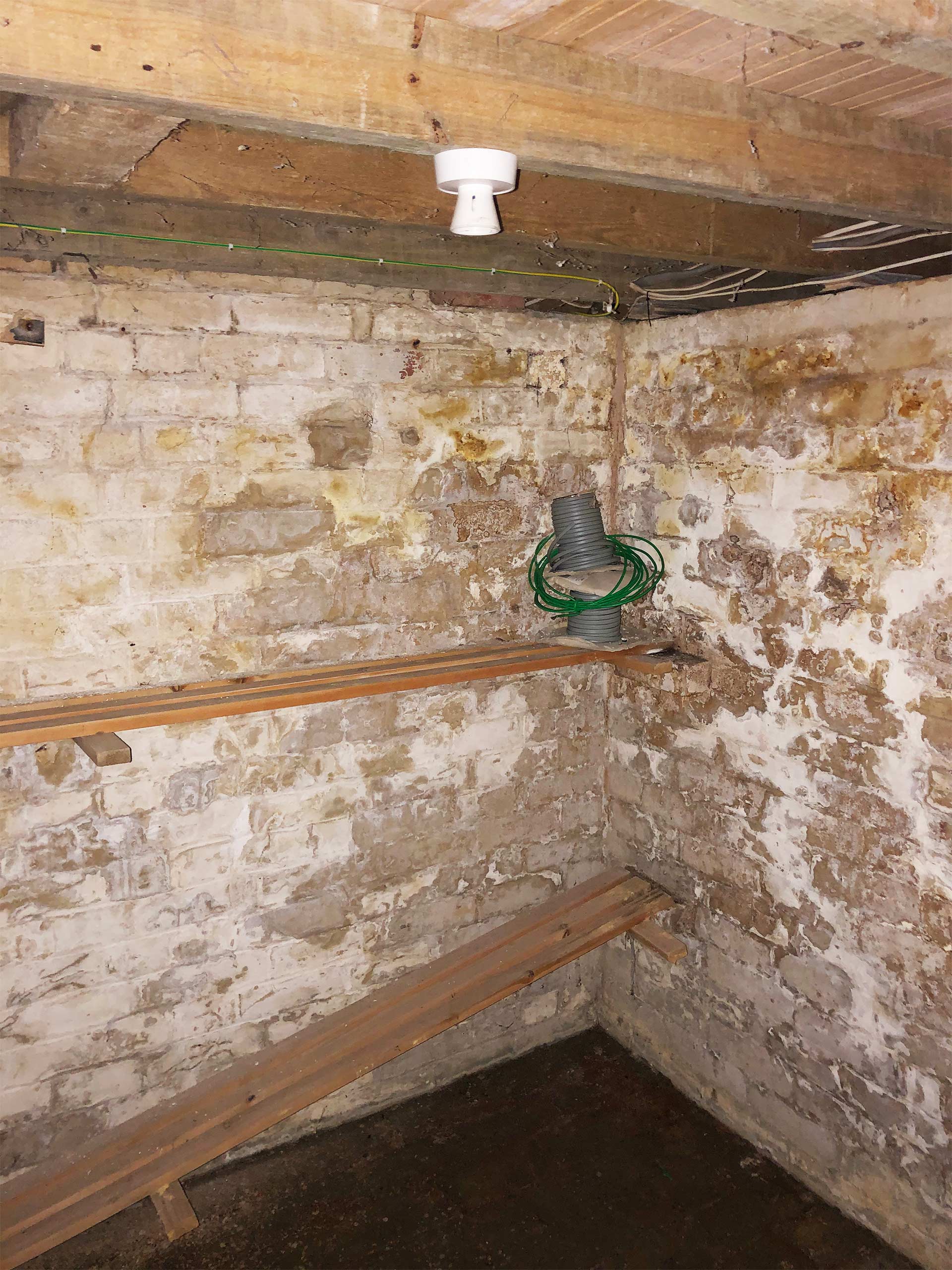 Basement Waterproofing Solutions in Surrey
Excess moisture tends to gather in basements, for several reasons. Basements tend to be colder than the rest of a given property, which makes them prone to condensation. Since basements are largely located below ground level, they are subject to water leaching in from any damp soil outside.
Of course, while this is true, many homes across Surrey and beyond benefit from a working, habitable basement. Properly waterproofed, they add significant living and working space to any property. Not only that, but a functional basement has also been shown to increase the value of homes throughout the county.
There are several possible solutions to a damp or humid basement. As trained and experienced professionals, we look to deliver one that works best for you.
Basement waterproofing is just one of many services we provide for our customers. We take a close look at the conditions in your basement and develop a unique solution to make it watertight. We guarantee an effective and long-lasting solution for any basement. This includes properties in Redhill, Reigate, Crawley, Dorking, Horsham, Oxted, Sevenoaks, and beyond.
Basement Waterproofing Solutions in Surrey
As a well-established basement waterproofing company in the Surrey area, we have much to offer our customers across the county. Here is what you can expect from us…
Basement survey
Before we can effectively waterproof your basement, we need to know how the water is getting in. We do this by performing a detailed inspection and survey of the basement itself. We look for signs of water ingress, condensation, and more. This helps us narrow down the possible solutions to your basement waterproofing problems.
Conclusions and next steps
Once we have completed our survey and compiled our report, we are able to recommend the best basement waterproofing technique. This will vary from one property to the next. We provide you with the various options for the work, and our recommendation. Only once you are happy with the figures will we proceed.
Interior basement waterproofing
Waterproofing the inside of your basement is often the quickest and most cost-effective method of doing so. This includes damp proof coating and sealants for the walls and doors. It can also include installing dehumidifiers to reduce instances of condensation. Our specific recommendations will depend on the extent and nature of your basement damp.
Exterior basement waterproofing
Interior basement waterproofing prevents water ingress from reaching your basement. Exterior basement waterproofing prevents water from getting past your external wall in the first place. Aside from water resistant paints, sprays, and sealants, we also consider the height of the water table and soil acidity. A Damp Proof Membrane can also be installed.
Basement drainage
Sometimes the issue is one of drainage. If there is insufficient natural drainage around your basement, it can leach moisture from the damp soil surrounding it. Removing the soil itself is not always practical. This means that diverting an existing drainage system or installing a new one is often the best solution.
Experienced basement waterproofing specialists
Here at the Damp and Timber Company, we have been waterproofing basements across Surrey for years. Customers throughout the county have benefited from our experience in this field. Our team of waterproofing specialists have decades of relevant expertise between them. This ensures quality work and a reliable final product on every job we commit ourselves to.
Your local basement waterproofing company
Our main office is in the Surrey town of Redhill. From here, we travel the whole of Surrey, installing basement waterproofing solutions for our customers. This takes us across the county, helping hundreds of individuals. This includes those customers of ours in Reigate, Crawley, Dorking, Horsham, Oxted, Sevenoaks, and beyond.