For damp proofing solutions in Dorking
Damp Proofing Services in Dorking
When looking for quality damp proofing in Dorking, make The Damp and Timber Company your first port of call. We have been providing essential damp proofing and timber treatment solutions in the town for years. We deal with dry rot, wet rot, woodworm treatment, rising damp, and other unsightly conditions. We also perform property surveys and basement waterproofing services for our valued Dorking customers. Whatever you need to protect your property from incremental damp, rot, and infestation, we can help.
Damp Proofing and Timber Treatment in Dorking
As a well-established damp proofing company in the Dorking area, we have much to offer our customers in the town. Here are some of our more popular services…
Damp Proofing in Dorking
Damp proofing is an effective way to prevent damp affecting your floors and walls. At The Damp and Timber Company, we have plenty of experience in this field. Whether your situation calls for a Damp Proof Course (DPC) or Damp Proof Membrane (DPM) we can help. We have been installing high-performance damp proofing in Dorking homes for years.
Rising Damp in Dorking
Rising damp is a condition caused by capillary action. What this means is that standing ground water is drawn up through porous bricks, timber, and plaster. This water then leaches out into the walls, leaving unsightly tide marks. At The Damp and Timber Company, we know several ways of dealing with rising damp, so you are is in good hands.
Wet Rot and Dry Rot in Dorking
To get rid of wet rot and dry rot, you first need to find whatever it is that is causing the problem. This can be a leak, a humid atmosphere, or condensation. Our first task on any job is to locate the source of the rot. Once this is eliminated, we can begin repairing or replacing any damaged timbers.
Property Surveys in Dorking
To fully appreciate the extent of damp in your Dorking property, you need to conduct a survey. At The Damp and Timber Company, our team of damp proofing experts perform these across the town. We compile a detailed survey report, listing all evidence of damp and recommending treatment.
Basement Waterproofing in Dorking
Waterproofing a basement can take some time, but it is a job well worth doing. Not only does it add value to your Dorking property, but it also gives you additional living, working, or storage space. There are several ways of waterproofing a basement. Our skilled workers will walk you through the options and recommend the most effective choice.
Woodworm Treatment in Dorking
Woodworm does not relate to a single species of insect. There are dozens of wood-boring insects that set up home in domestic timbers, laying their eggs in the holes. At The Damp and Timber Company, we have extensive experience identifying the specific insect so we can effectively remove it. Once done, we can repair or replace your timber work.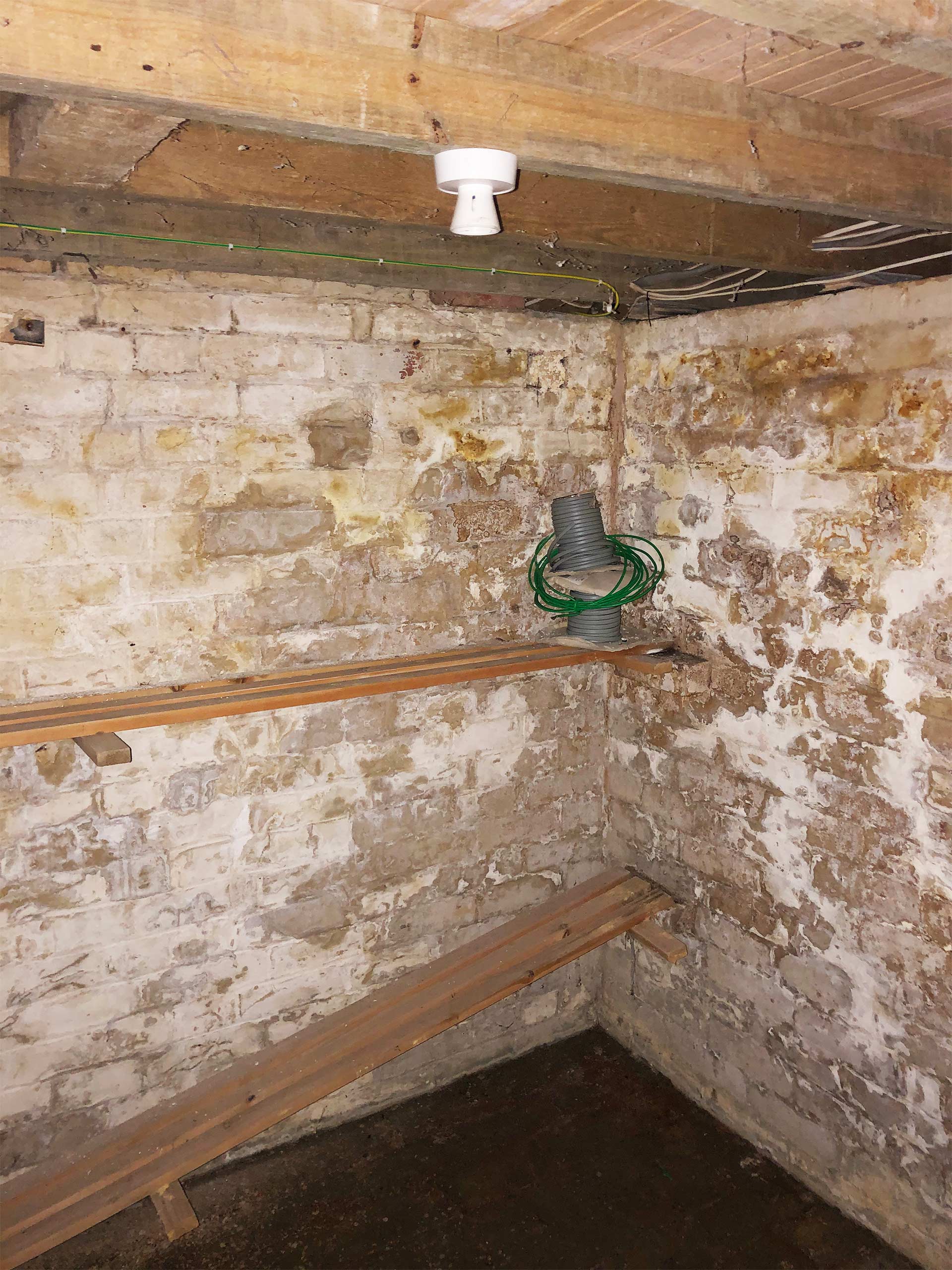 Your local damp proofing company
We work a lot with customers in Dorking, providing essential damp proofing solutions to hundreds of homes. Based in Redhill, Surrey, we are only ever twenty minutes or so from your property. This means that we will always be there for you when you need us. Our team knows the route well and can guarantee a punctual service.