For damp proofing solutions in Surrey
Damp Proofing Services in Surrey
The Damp and Timber Company has been assisting the people of Surrey with damp, rot, and infestation for years. Our team of highly-experienced and fully-trained professionals deliver essential damp proofing and timber repair services across the county. From wet and dry rot to woodworm treatment and property surveys, we do it all. Whatever you need to protect your property from damp, we are there to help you.
Damp Proofing and Timber Treatment in Surrey
As a well-established damp proofing company in the Surrey area, we have much to offer our customers across the county. Here are some of our more popular services…
Damp Proofing in Surrey
As the name implies, damp proofing is a method used to prevent the occurrence of damp on walls and floors. There are two main techniques that we use: Damp Proof Course (DPC) and Damp Proof Membrane (DPM). As experienced damp proofing specialists, we will help you choose the one best suited to your situation.
Rising Damp in Surrey
Rising damp is caused by capillary action through porous building materials. What this means, in essence, is that groundwater is drawn up through brickwork, wooden timbers, and plaster. This results in the infamous 'tide mark' common to many cases of rising damp. Our team of damp proofing professionals will analyse the problem and deliver an effective solution.
Wet Rot and Dry Rot in Surrey
Both wet rot and dry rot can affect the timbers and other woodwork in your property. Whilst they are distinctly difference conditions, we employ similar methods to remove them. This involves isolating and repairing the cause of the rot – usually either a leak or condensation. Once this has been done, we can repair or replace the damaged timbers.
Property Surveys in Surrey
A full damp survey is essential when buying or selling a property. It lets you confirm the existence and the extent of any damp in the building. At The Damp and Timber Company, we perform in-depth property surveys in and around Surrey. These identify the damp issue, as well as detailing effective methods of dealing with it.
Basement Waterproofing in Surrey
Damp and water ingress are common ailments in basement spaces across Surrey. It is not hard to see why. Constructed below the water table, they require special waterproofing precautions if they are to stay dry. At The Damp and Timber Company, we employ several techniques to effectively waterproof your basement. This gives you greater living space in your Surrey property.
Woodworm Treatment in Surrey
Woodworm covers a variety of species of wood-boring insects that infest homes across Surrey. They burrow deep into timber, where they lay their eggs. The resulting larvae hatch and proceed to eat the surrounding wood. At The Damp and Timber Company, we identify the type of insect infesting your property and take relevant steps to eradicate them.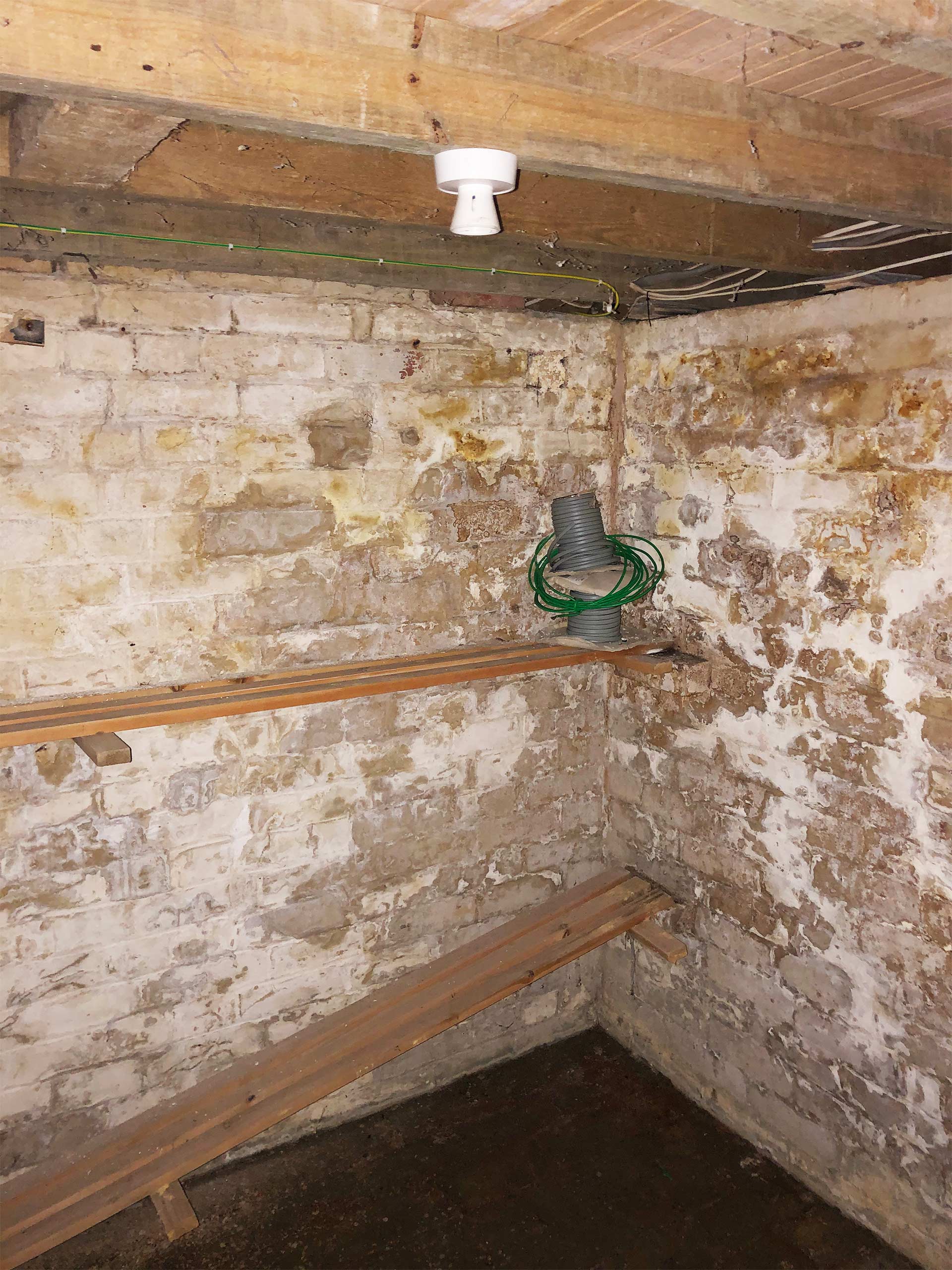 Your local damp proofing company
The Damp and Timber Company is well-known among Surrey residents as a dependable damp proofing firm. Based in Redhill, our team of damp, rot, and timber experts travel a 10-mile radius across the county. We have a long history in Surrey and know the area well. This ensures a prompt and punctual arrival for every job we take on.